Teaching children about consent and body boundaries is important for their growth, development and safety. Knowledge about consent empowers children to have control over their bodies and personal space while also emphasizing the importance of respecting others' boundaries and personal space. In addition, understanding personal body boundaries prevents abuse by helping kids protect themselves from inappropriate or harmful physical interactions.
        There are many resources out there on this topic but here are a few notable ones that our counseling team has specifically selected for different age groups. These books and videos are not just informative but light, fun and engaging!
Ages 3-8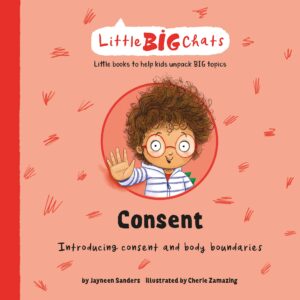 Consent by Jayneen Sanders (SEL series Little Big Chats)
What we love about this book: 
This is a great picture book to introduce consent to children 8 and under.  With vibrant images, an age appropriate approach, and an easy to follow story line, it is an invitation to explore the topic of consent in an open and safe manner.  At the back of the book has a guide for parents, caregivers, and educators that provides helpful hints to help further develop conversations throughout the book. This book is part of a series called Little Big Chats that cover a variety of important topics that aren't always easy to discuss with little ones.
For more in this series see link here 
Video
The Boundaries Song – "That's a Boundary" by Hopscotch
A fun and catchy song about creating healthy boundaries.  A great way to introduce consent in a light and broad sense.  Warning: It may get stuck in your head!
Ages 8-13
Consent (for Kids) by Rachel Brain
 What we love about this book:
With a comic book style, this book introduces the topic of consent in an approachable and engaging manner.  The fun illustrations and age appropriate approach provide an opportunity to explore relatable examples of consent. It provides clear explanations and demonstrations of asking for and granting consent. This book focuses on teaching children that consent is not just about physical boundaries but provides an opportunity  for further conversations around creating healthy boundaries in all areas.  Topics covered include hugging, sharing personal information, and respecting personal space.  
Video
Consent (for Kids) by Blue Seat Studios
An easily accessible and inclusive approach to teaching about asking for and granting consent.  Using simple and adorable graphics, the video provides clear, and relatable, examples of what is and is not consent. 
Ages 13-18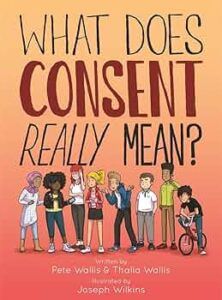 What Does Consent Really Mean? by Pete and Thalia Wallis
What we love about this book:
This is a resource that teenagers will likely be able to relate to! It is a powerful graphic novel that provides a deeper understanding of consent and is geared toward more mature readers.  It approaches consent from a teenager's perspective and engages in character dialogue that is relatable and authentic to many current adolescent experiences. It addresses issues like coercion, peer pressure, and the importance of clear and enthusiastic consent, empowering readers to recognize these scenarios in their own lives.
We also love that this book provides a thoughtful and inclusive approach, and readers from diverse backgrounds and identities will be able to relate to the content.  
**For mature readers.  Parents are encouraged to preview first. 
Video
Consent as Tea by Blue Seat Studios
 A simple and easy to understand message using the metaphor of a cup of tea.  This helped to de-mystify and lighten consent while also providing a clear understanding.  The video is simple enough in it's delivery and presentation for early adolescence while also being relatable for an older audience.
…..
We hope that these resources are helpful and encourage you to find more to continue teaching kids about consent and body boundaries. It can be a big topic that may take some time for children to understand but one that is certainly worthwhile for healthy growth and development.